Capital Markets Day 2019
Our Capital Markets Day was hosted on the 21st November 2019.
The event included presentations from our CEO Penny James, CFO Tim Harris, Mark Evans, Director of Marketing and Digital, Kate Syred, Director of Home and Partnerships, Gus Park, Director of Motor, Underwriting and Pricing and Harj Johal, Director of Customer Operations.
Hosted in our flagship contact centre in Doncaster, our visitors experienced first hand the energy and enthusiasm of our people and their passion for serving our customers.
View Q3 Trading Update and Capital Markets Day
View the full presentation below:
View transcript here

Leveraging our customer focus with new technology
Direct Line Group is on an ambitious transformation journey, delivering technology and organisational change to increase the competitiveness of the business.

In this presentation our CEO Penny James outlines the Group's new vision, purpose and strategy. Penny explains how the Group will turn its potential into growth through combining our customer focused philosophy, strong brands and technology by becoming a simpler, leaner and more agile organisation with the aim of establishing DLG as the most successful business in our chosen markets.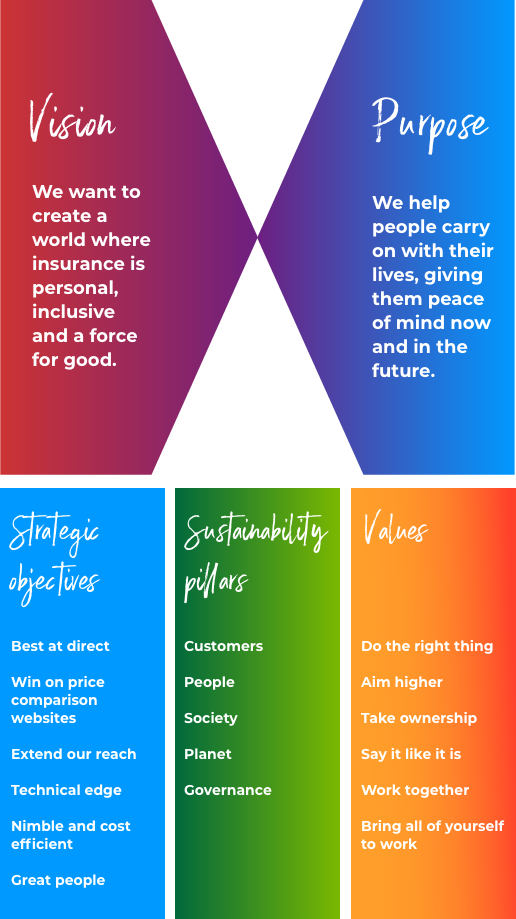 Delivering our ambitions
Direct Line Group has a track record of delivering outstanding service to our customers and delivering strong returns to shareholders. Built on a robust balance sheet, we see real potential in the future as we look to simplify and develop a lean and more agile business.
Cost management is critically important to the sustainable success of the Group. The significant investment in technology is justified partly by the opportunity for growth but underpinned by the belief that it will lead to our cost base becoming more competitive leading to greater sustainability of the business model.

Giving customers peace of mind
Customers are at the heart of everything we do. We need to offer them outstanding customer service, while making insurance personal, inclusive and really easy for them to manage.
To do this we have developed our six customer pillars that drive this 'Customer First' focus throughout the entire business. By understanding our customers' needs we can manage their expectations and earn their trust. We can continue to develop propositions that are relevant in today's world and differentiate us from the rest of the market.
Doing the right thing
Direct Line Group has always worked tirelessly to earn our customers' loyalty. Our aim is for customers to value the protection, service and security our products offer, being clear about pricing and ultimately giving people numerous reasons to stay with our brands.
In this presentation Kate Syred, Managing Director of Household and Partnerships, discusses the Group's response to the FCA's Market Study on General insurance pricing practices, including the actions we have taken since establishing our own pricing review process in 2014.
Using data, scale, skill and insight to deliver value to customers
Thanks to our history we have an established position in the UK general insurance market, with a vertically integrated business model that gives us real scale advantages matched with a breadth of expertise. The data, insights and skills we possess puts us in a strong position to keep delivering excellent products and outstanding experiences for customers.
When coupled with our strong brands, we see a real opportunity by increasing the speed at which we deploy our pricing models and by extending the use of both primary and third party data to enrich our pricing to win more customers from our competitors.