The Fast and the Future-ous: Direct Line Group reveals the Garage of the Future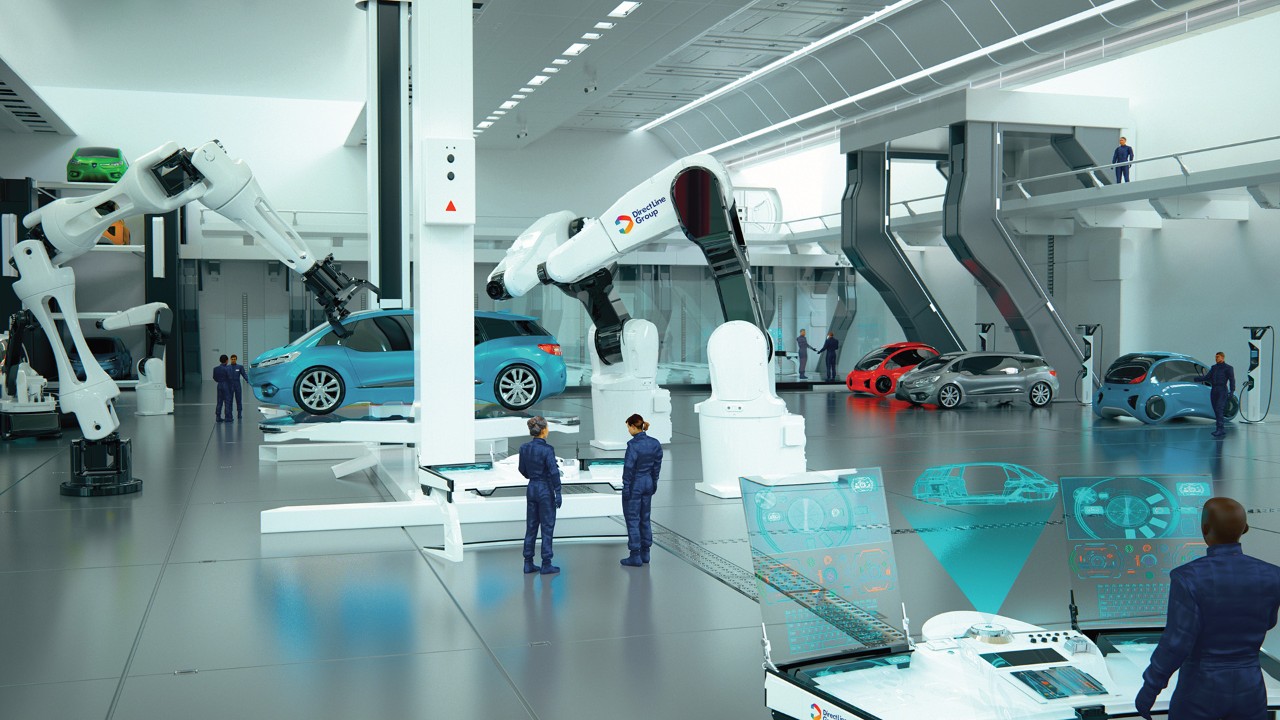 · The auto repair industry is facing a diversity struggle as just over a quarter of Brits (26%) and less than one in five women (19%) would consider a job in an auto repair garage
· Nearly six in 10 (59%) people say a job in a car garage does not interest them
· To showcase the exciting prospects of the profession, Direct Line Group and leading industry experts have teamed up to predict the garage of the future that will include innovations such as holograms, robotic assistants and ultra-connected car diagnostics
· Direct Line Group opens 2019 Graduate Scheme applications to find the new wave of industry innovators
New research released today, has found the auto repair business is struggling to reach top gear, as it faces a diversity dilemma with over a quarter of Brits (26%) and less than one in five women (19%) saying they would consider a job in a car garage.
The research carried out by insurance provider Direct Line Group, found that nearly six in 10 (59%) Brits would dismiss the profession as it simply doesn't interest them. Others perceive it as strenuous and labour intensive (17%) and nearly one in 10 women think it's a 'man's job' (9%).
In a bid to help the industry change lanes and drive awareness of the diverse range of opportunities on offer, the Group has teamed up with leading experts to take a future-forward look at the innovations and improvements they predict will be a reality by the year 2050.
Working with safety researchers, Thatcham Research, smart city innovators, DG Cities and the Women's Engineering Society, the insights collated showcase the exciting technology the industry is embracing. Forget what you know, it's going to be more Tom Cruise in Minority Report, than Danny Zuko in Grease with repair centres to become hives of technology more akin to a laboratory than a workshop.
Holograms will no longer just be a fantasy in films like Iron Man and Star Wars, with the technology set to be used to assist mechanics in accurately repairing car problems. Likewise, according to DG Cities, holographic and augmented reality technology will be built into vehicles to enable drivers to fix minor problems at the roadside with assistance from professional mechanics remotely.
The top innovations experts predict will be a reality in auto repair centres by 2050:
1. Holographic and augmented reality (AR) technology
2. Advanced robotics to assist with manoeuvring and adjustment of vehicles
3. 3D printing of car parts to improve turnaround time for repairs
4. Ultra-connected workshops
5. Hyper clean work areas akin to laboratories
6. Self-diagnosing cars
7. Video communication technology for mechanics to speak with customers
8. Advanced laser welding
9. Space saving car storage
10. Innovative staff training areas for mechanics to learn as technology evolves
11. Mobile electric charging stations to keep vehicles batteries in peak condition
According to industry experts the mechanics of the future will need to be more computer savvy than ever as technological advancements driven by electric and autonomous vehicle development continues.
Ultra-connected cars mean diagnosing car conundrums could be as easy as the car itself telling the engineer what the issue is – sometimes even before anything has gone wrong. This will strike a chord with nearly two in five (38%) Brits who say they want to see more accurate diagnostic tests to help improve repair accuracy.
In good news for the public, of whom more than a third (35%) would like to see faster repairs, waiting for a spare part to come into stock at a garage will soon be a thing of the past, thanks to on-site 3D printers, mechanics will be able to create replacement spare parts in an instant.
Professionals also foresee that driverless cars may even be able to drive themselves to the garage to be checked, meaning people won't even need to leave their home to get a MOT. Instead customers will be able to speak with mechanics via video calls – welcome news for over a fifth (22%) of Brits who dislike the need to arrange alternative transport while their car is at the garage.
However, expert's hope it is isn't just technology that changes in the industry. The research highlighted the perception problems the industry faces, with nearly a third of Brits (29%) admitting they don't associate repair garages with engineering, demonstrating a lack of awareness that it is a highly skilled profession. In addition, when asked what term they associate most with a car garage, nearly two in five (38%) women said 'male', compared to just 27% of men.
There is hope for the future though, as more than three in five (62%) Brits believe more women should be encouraged to work in car engineering with support for this highest among 18-24-year-olds, with nearly three quarters (73%) saying so.
Elizabeth Donnelly, Chief Executive Officer at the Women's Engineering Society, said: "It is fantastic that strides in technology have been made in repair garages, however, in order to make the automotive engineering sector more diverse and encourage more women to consider it as a viable career option, we must ensure that this starts with education from an early age. Curriculum traditionally tends to teach children about gendered careers from foundation level, which is perhaps why there are so few women in engineering. We hope through education and the exciting developments within the industry we can promote engineering as an exciting profession for all members of society."
Motor Network Technology Specialist at Direct Line Group, Felicity Harer, said: "At Direct Line Group we're constantly looking at the changing landscape and technological advancements in the automotive industry to ensure that our garages are the best they possibly can be, both for our employees and our customers.
"It's really exciting to think that holographic and AR technology, advanced 3D printing, and connected vehicles that allow mechanics to find the route of a problem quickly, will begin to become a reality. We hope this glimpse of the future shows young people in particular the variety of careers that are evolving in engineering, and that it will encourage people from a wide variety of backgrounds to consider a career in this sector. With innovations like driverless cars within touching distance there is a huge space for people to work in and shape the way repairs are performed on these vehicles and the technology needed to do so."
The Group has opened its 2019 technical graduate scheme programme and is looking for technical engineering graduates who are interested in using their engineering or technology degree to help revolutionise the future of the industry.
Technology is at the heart of the graduate scheme and participants will complete placements as vehicle damage assessors (VDA), specialists in advanced technology and working in their technical transformation team to learn to handle and support changes in the repair network.
More information about Direct Line Groups Grad Scheme here: https://www.directlinegroupcareers.com/job-details/R-6209/
ENDS
Notes to editors
Research commissioned be Opinium among 2,003 UK adults 18+ between 13 – 15 March 2019.
Case studies and insight transcripts available for:
· Direct Line Group, Motor Network Technology Specialist, Felicity Harer
· Balasz Csuvar, CAV Lead at smart city and garage innovators, DG Cities
· Elizabeth Donnelly, Chief Executive Officer at the Women's Engineering Society
· Andrew Hooker, Advanced Repair Projects Manager, Thatcham Research
For more information contact:
Jordan King – [email protected]
Chloe Mugwangi – [email protected]
Jade Trimbee
Senior Manager
Direct Line Group
Tel: 01372 839 452
Mobile: 07825 315 931
Email: [email protected]
Direct Line Group
Direct Line Group is headquartered in Bromley. Through its number of well-known brands the Group offers a wide range of general insurance products to consumers. These brands include Direct Line, Churchill and Privilege. The Group also provides insurance services for third parties through its partnerships division, Direct Line Group Partnerships. In the commercial sector, the Group's NIG and Direct Line for Business operations offer insurance products for businesses distributed through brokers or direct, respectively.