Dog theft continues to rise
An average of five dogs across Britain were stolen every day in 2017
There were 1,909 reports of stolen dogs to UK police forces in 2017, a 6.8 per cent increase compared to 2016
Number of reported dog thefts in 2016 was 14 per cent higher than in 2015
There was a 27 per cent rise in cases of stolen French Bulldogs in 2017 – making them the third most commonly stolen breed, only behind Staffordshire Bull Terriers and crossbreeds
Huskies moved into the top ten commonly stolen dog breeds, while Lurchers have dropped out of the top ten

The number of dogs stolen across Britain has risen by 6.8 per cent in just 12 months, with an average of five dogs stolen every single day in 2017, reveals new analysis by Direct Line Pet Insurance1. Last year, 1,909 dogs were reported as stolen to police forces compared to the 1,788 stolen in 2016.
The Staffordshire Bull Terrier is still the most stolen breed of dog, with 210 stolen across Britain in 2017. The numbers of stolen Staffies have, however, decreased by 15 per cent when compared to 2016 reports. Crossbreeds remain the second most stolen dog breed, coinciding with the rise in popularity of breeds like Cockerpoos and Puggles, with 82 crossbreed dogs reported as stolen in 2017.
This continues the trend highlighted by Direct Line in 2017, when its research2 revealed that the number of reported cases of dog theft rose by 14 per cent in 2016 compared to the previous year.
The French Bulldog is now the third most commonly stolen breed, rising from fifth place in 2016. Over the course of 2017, 61 French Bulldogs were stolen, compared to 48 in 2016, a 27 per cent increase. French Bulldogs are a distinctive breed, popular with celebrities including Leonardo DiCaprio, The Rock, Lady Gaga and Madonna, and cost upwards of £1,0003, which may explain the rise in popularity for thieves. Other changes in the most common breeds targeted by thieves include Huskies, with 17 dogs stolen in 2017 compared to just five in 2016, meaning it is now one of the 10 most commonly stolen breeds. This could in part be due to the 'Game of Thrones effect' and subsequent rise in ownership of Huskies and other wolf-like breeds. At the other end of the scale, Lurchers have moved out of the list of the ten most commonly stolen breeds. In 2016 they were ranked eighth but have moved to 19th in 2017, with just six dogs stolen.
Table one: Top 10 most stolen dog breeds across the UK
Rank

Dog breed

Number of dogs stolen in 2017

Number of dogs stolen in 2016

Percentage change from 2016

1

Staffordshire Bull Terrier

210

246

-15%

2

Crossbreed

82

105

-22%

3

French Bulldog

61

48

+27%

4

Chihuahua

57

55

+4%

5

Jack Russell

47

54

-13%

6

Labrador

27

19

+42%

7

Cocker Spaniel

23

13

+77%

8

Bulldog

19

27

-30%

9

Husky

18

5

+260%

10

Springer Spaniel

15

8

+88%

Overall UK

1,909

1,788

+6.8%
Source: Direct Line Pet Insurance 2018
The research found that the Metropolitan Police Service recorded the highest number of stolen dogs of the UK's police forces in 2017, with 225 reports received. This was followed by West Yorkshire Police, with 172 reports of stolen dogs, and Kent Police, with 160 reports. These three forces alone represent nearly a third (31.5 per cent) of all dog thefts last year.
At the other end of the scale, Cheshire Constabulary, received just four reports of stolen dogs in 2017, followed by Surrey Police, with eight and Derbyshire Constabulary with 11.
Prit Powar, Head of Pet Insurance at Direct Line said: "Having your dog stolen is one of the most distressing things a pet owner can face, particularly as animals are often considered to be members of the family. There is no excuse for the theft of an animal but some of the reasons behind dog theft include using the animal for dog fighting, breeding or selling on.
The rise in popularity of 'designer' dog breeds among celebrities and the 'fashion' for certain types of dogs means people are willing to pay thousands for an animal, which unfortunately makes them prime targets for thieves. Pedigree owners need to be especially vigilant."
On a regional basis, Yorkshire and the Humber saw the highest number of dog thefts (346), meaning that one dog was stolen for every 2,197 dogs in the region. London, however, had the highest proportion of dogs stolen, with one dog stolen for every 889 dogs. The East Midlands had the lowest proportion, with one dog stolen for every 10,101 registered dogs.

Returned dogs
Direct Line's research did, however, uncover some positive news, as the number of dogs returned to their owners also rose in 2017 from 365 to 388. This is a 6.3 per cent increase, meaning that stolen dogs have a one in five chance of being returned to their owner.
On a police force level, Leicestershire Constabulary returned 78 per cent of stolen dogs to their owners in 2017. Of the 27 dogs stolen in the police force's area, 21 were recovered. Norfolk (76 per cent), Dorset (71 per cent) and Suffolk (67 per cent) also have high recovery rates for dogs.
On a wider regional basis, the East of England had an impressive 40 per cent return rate of stolen dogs, with 47 canines returned from a total 116 stolen in 2017. However, owners in the West Midlands should be extra careful as only 11 per cent of dogs stolen last year were returned (17 out of 161).
Table two: Regional breakdown of dogs stolen and recovered
| | | | | |
| --- | --- | --- | --- | --- |
| Region | Number of dogs stolen in 2017 | Percentage change from 2016 | Number of dogs returned in 2017 | Percentage change from 2016 |
| Yorkshire and the Humber | 346 | -2.8% | 53 | -20.9% |
| North West | 312 | -10.1% | 49 | 8.9% |
| South East | 261 | 31.2% | 40 | 53.8% |
| London | 225 | -2.2% | 33 | n/a |
| West Midlands | 161 | -23.7% | 17 | -69.1% |
| South West | 142 | 35.2% | 50 | 85.2% |
| East Midlands | 142 | 43.4% | 49 | 22.5% |
| North East | 126 | 24.8% | 35 | 59.1% |
| East of England | 116 | 41.5% | 47 | 95.8% |
| Wales | 78 | 34.5% | 15 | -37.5% |
| UK total | 1,909 | 6.8% | 388 | 6.3% |
Source: Direct Line Pet Insurance 2018

Prit Powar continued: "If the worst does happen and an owner suspects their dog has been stolen, they should report it to the police immediately and start spreading the word in their local community. Use photos and share distinguishing features on any lost dog websites, community feeds, and social media pages to help make the dog 'too hot to handle' for thieves.
"To avoid your dog being a target for thieves, consider keeping it on the lead in populated areas and when off the lead, make sure you can always see it. Never leave your dog tied up outside a building unsupervised and make sure your home is secure, so thieves cannot easily take your dog from your garden."
Steps to follow if your dog is stolen:
Firstly, check the local area and your dog's favourite spots
Make your dog 'too hot to handle' by sharing on social media, putting up posters in the local area and informing local media – include pictures and any distinctive marks in any appeals, and ask others to spread the word
There are some specific sites set up to help find lost and stolen dogs, like doglost.co.uk
Report your dog as stolen to the police and provide them with as much detail as possible
Report your dog as stolen to local pet related services like vets, animal shelters, pet shops, dog wardens and the council. Provide photos, a physical description and the dogs microchip number
Report your dog to the microchip database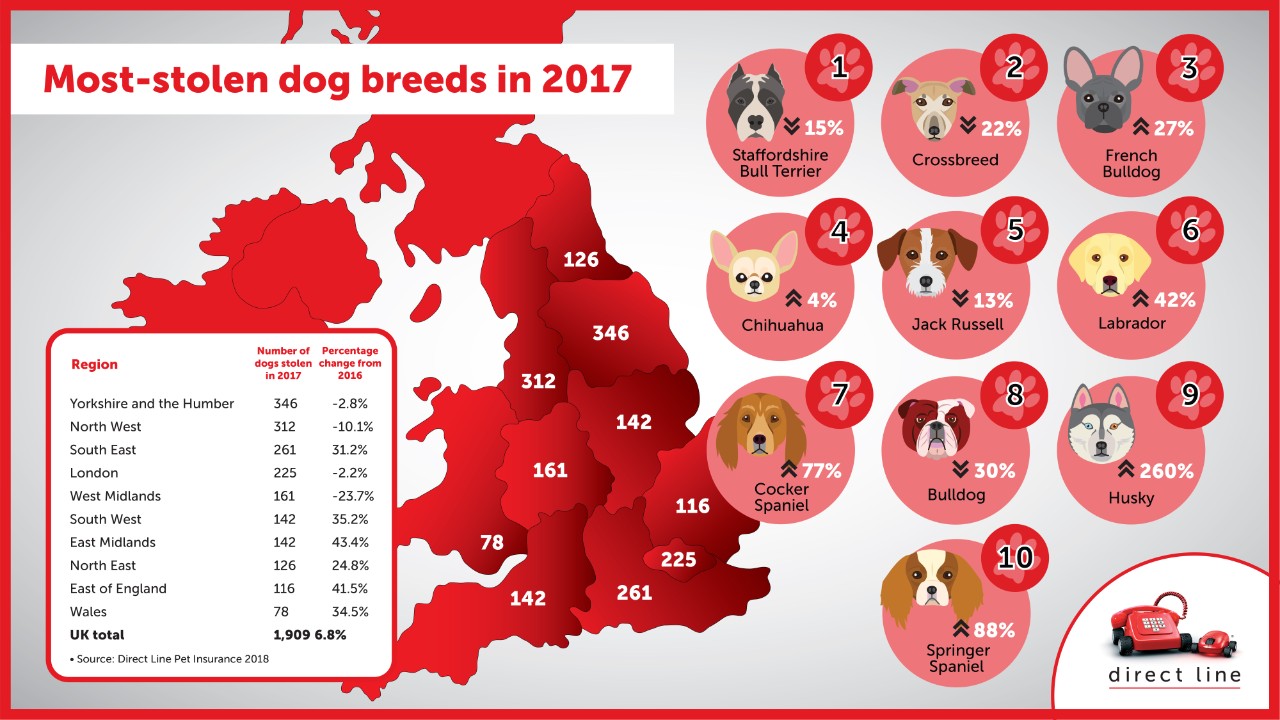 - ENDS -
Notes to Editors

1 Direct Line Pet Insurance's analysis of data supplied in response to a Freedom of Information Act request issued to the UK's police forces on 22nd February 2018. 41 of 44 police forces (93 per cent) police forces responded to the request, of which 38 were able to provide usable data.
2 Direct Line Pet Insurance analysis of data supplied in response to a Freedom of Information Act request issued to the UK's police forces on 16th August 2017. 42 of 44 police forces (95 per cent) responded to the request, of which 34 were able to provide usable data.
3 https://www.pets4homes.co.uk/sale/dogs/french-bulldog/

For further information please contact:
Olivia Shalofsky

Direct Line Group
Tel: 01372 839 537

Email: [email protected]

Antonia Green
Citigate Dewe Rogerson
0207 282 2967
Direct Line
Started in 1985, Direct Line became the first UK insurance company to use the telephone as its main channel of communication. It provides motor, home, travel and pet insurance cover direct to customers by phone or on-line.
Direct Line general insurance policies are underwritten by U K Insurance Limited, Registered office: The Wharf, Neville Street, Leeds LS1 4AZ. Registered in England and Wales No 1179980. U K Insurance Limited is authorised by the Prudential Regulation Authority and regulated by the Financial Conduct Authority and the Prudential Regulation Authority.
Direct Line and UK Insurance limited are both part of Direct Line Insurance Group plc.

Customers can find out more about Direct Line products or get a quote by calling 0345 246 3761 or visiting www.directline.com/pet-cover