The cost of being a bad driver - an extra £560 on fuel
Poor drivers spend 67 per cent more on fuel than the best drivers – amounting to nearly £50 every month
New analysis shows good driving can almost halve the number of petrol station stops and save over £560 per year


New analysis1 of driving patterns by Direct Line DrivePlus has revealed that bad driving habits are not only costly in terms of road safety, but they also have a direct impact on drivers' pockets. A new study by one of the UK's leading providers of telematics insurance policies has estimated that those with the best driving styles will spend an average of £837 per year on fuel, compared to £1,399 for those with the worst – a difference of £562 (67 per cent).

Analysts for Direct Line DrivePlus studied over 319,000 journeys by more than 2,000 drivers during a two month period and found that those with lowest ranking driving habits drive an average of 413 miles between petrol station fill ups, compared to 693 miles for those with the best scores.

Based on the average UK annual mileage2 of 8,200, those with the lowest scores will have to visit the petrol station around 20 times per year – nearly twice as often as those with the highest rating, who need to fill up only 12 times on average. The table below provides more detail. Drivers are rated on driving habits such as speed, braking and steering, with a score of one being the lowest – reflecting the worst driving habits – and ten being the best.
| | | | | |
| --- | --- | --- | --- | --- |
| Driving score | Average number of miles per petrol station visit | Miles per gallon | Petrol station visits p.a. | Fuel cost p.a. |
| 1-2 | 412.6 | 31.4 | 19.9 | £1,398.53 |
| 3-4 | 492.8 | 37.3 | 16.8 | £1,179.99 |
| 5-6 | 538.9 | 40.9 | 15.2 | £1,073.25 |
| 7-8 | 608.2 | 45.8 | 13.7 | £960.21 |
| 9-10 | 692.9 | 52.5 | 11.9 | £836.75 |
Source – Direct Line Drive Plus data. Figures assume average annual mileage of 8,200 miles and an average fuel price of 117.5ppl.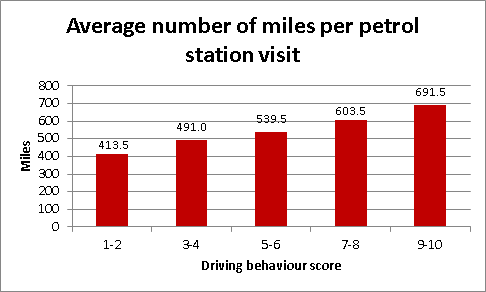 Source – Direct Line Drive Plus data.

The difference between the top and bottom 10 per cent of drivers in Britain is even more marked, with those scoring the lowest spending as much as £1,424 per year on fuel - £612, or 75 per cent – more than those with the very best scores, who spend just £812.
The Direct Line DrivePlus technology analyses drivers' motoring behaviour and rates their driving styles based on factors such as acceleration, cornering and braking. A smoother driving style will receive a higher score, while a more aggressive approach will receive a lower rating with DrivePlus customers being given advice on measures they could take to be safer on the road – and improve their score. As this study shows, not only will getting a higher score improve their safety, it will also help reduce their motoring costs.
Paul Felton, Head of Telematics at Direct Line, said: "This new research really brings home the impact that poor driving habits will have on motorists' budgets. One of the primary objectives of telematics is to help make the roads safer for all users by providing feedback to drivers on their driving and how to improve their habits. However, this research also shows that cars which are driven smoothly will help save drivers significant amounts of money.
Felton continues: "When you add the fuel savings to the fact that better driving habits will lead to tyres lasting longer, and other wearable components like brakes not having to be replaced as often, the financial benefits for drivers getting the best telematics scores can be significant."
By signing up for DrivePlus motorists are able to have their driving rated on an ongoing basis. Consistently high or improving scores can lead to reductions in car insurance premiums as better driving results in a lower risk of being in an accident3. Those drivers interested in DrivePlus should visit the website at: www.directline.com/car-insurance/driveplus

ENDS
For further information, please contact:
Chloe French

PR Manager
Direct Line Group
Tel: 01651 831 715
Email: [email protected]
Notes to editors:
Sources
1 Direct Line analysis of all journeys made by more than 2,000 drivers over a two month period (September – November 2016) – a total of over 319,000 journeys. Fuel consumption comparisons based on average annual mileage of 8,200 miles, assuming that all journeys which take place within 20m of a petrol station involve the driver refuelling their car with a full tank of petrol (with an average tank size of 60 litres)
2 Average annual mileage figure taken from DfT data:
https://www.gov.uk/government/uploads/system/uploads/attachment_data/file/524261/annual-road-traffic-estimates-2015.pdf
Fuel price figure taken as average of current average unleaded and diesel price per litre:
http://www.theaa.com/driving-advice/driving-costs/fuel-prices
3 Drivers aged 17-25 will receive a discount of up to 25 per cent. These discounts are subject to change.
Direct Line
Started in 1985, Direct Line became the first UK insurance company to use the telephone as its main channel of communication. It provides motor, home, travel and pet insurance cover direct to customers by phone or on-line.
Direct Line general insurance policies are underwritten by U K Insurance Limited, Registered office: The Wharf, Neville Street, Leeds LS1 4AZ. Registered in England and Wales No 1179980. U K Insurance Limited is authorised by the Prudential Regulation Authority and regulated by the Financial Conduct Authority and the Prudential Regulation Authority.
Direct Line and U K Insurance limited are both part of Direct Line Insurance Group plc.
Customers can find out more about Direct Line products or get a quote by calling 0345 246 3761 or visiting www.directline.com