Cat theft is on the rise
In 2016 there were 261 cats reported as stolen to police forces, an increase of 40 per cent on 2014
The most stolen breeds recorded were the Bengal and Domestic Shorthair
Pet owners may not realise that they can report suspected cat thefts to the police
However, 360,000 adults believe they had a cat stolen in the last 12 months

New analysis by Direct Line Pet Insurance1 reveals 261 cats were reported as stolen to UK police forces in 2016. According to the data, the number of cats reported stolen has jumped by 40 per cent since 2014 (186).
Less than a fifth (18 per cent) of cats reported stolen were recovered by police forces in 2016, representing a lower recovery rate than dogs (21 per cent). Cats by their nature are free roaming creatures - so many owners may regard their pet as lost or missing when it could have been stolen. People may not realise they can report suspected stolen cats to the police and ask for a Crime Reference Number.
The police forces which recorded the highest number of cat thefts last year were the Metropolitan Police (48), Kent Police (26) and West Yorkshire Police (24). Leicestershire Constabulary, Lincolnshire Police and Gwent Police had no incidences of cat thefts reported to them in 2016.

Table one: The ten police forces with highest number of cars reported as stolen in 2016
| | | | |
| --- | --- | --- | --- |
| Police Force | Cats reported as stolen, 2016 | Share of cats recovered, 2016 | Change in volume of theft, 2014-2016 |
| Metropolitan Police Force | 48 | 8% | +4% |
| Kent Police | 26 | 15% | +63% |
| West Yorkshire Police | 24 | 0% | +41% |
| Lancashire Constabulary | 22 | 9% | +38% |
| Thames Valley Police | 18 | 83% | +80% |
| Northamptonshire Police | 14 | 0% | +56% |
| Warwickshire and West Mercia Police | 12 | 33% | +100% |
| Devon and Cornwall Constabulary | 12 | 8% | +200% |
| Staffordshire Police | 12 | 8% | +1,100% |
| Merseyside Police | 11 | 55% | +1000% |
| ALL UK: | 261 | 18% | +40% |
Source: Direct Line Pet Insurance 2017

While the majority of police forces (68 per cent) recorded the breed of dog stolen when taking a report of dog theft in 2016, just a quarter of forces recorded the breed of cat. Of the breeds recorded, the Bengal (nine) and Domestic Shorthair (nine) were stolen most frequently, followed by the Russian Blue (five) and Siamese (five).
Some pedigree cat breeds can cost significant amounts of money. Bengal2, Russian3 Blues and Siamese kittens4 are sold for upwards of £350, making them an attractive target for potential thieves. These pedigrees are distinctive in appearance and so are easily identifiable to a would-be cat thief. This is also why they often confined to staying in their owners' home.
Additional research5 found the number of cats stolen may actually be much greater than the number reported to police forces. The study found that 360,000 adults believe a cat was stolen from their care in the last 12 months. Half (55 per cent) of these had their cat returned to them after it was taken, either as a result of it being found by someone else (12 per cent) or because of its microchip (10 per cent).
Prit Powar, head of Pet Insurance at Direct Line, said: "It is very difficult for owners to know exactly where their cat is all the time due to the large distances they wander. If an owner believes their cat is missing, they should first check the immediate vicinity such as in neighbouring gardens or garages as well as asking local people if they have seen it. If their cat is still missing, owners should contact their local animal warden.
"Cats, like dogs, are a big part of the family and it can be extremely distressing if they go missing or are stolen. Unfortunately stealing dogs and cats is becoming an increasingly popular crime as it is difficult to track the animals down and they can be sold on or bred from for significant amounts of money.
"We urge cat owners to make it as difficult for would-be thieves as possible. Keep your details up to date on the microchip database and let thieves know that the cat is neutered. By putting this extra information on the tag connected to their collar, and spreading the word of your cats disappearance as quickly as possible, helps the pet become 'too hot to handle'."

Direct Line's top tips for retrieving a lost or stolen cat:
Check your local area thoroughly as cats can get stuck up trees, locked in sheds and garages
Report the loss to your local authority animal warden
Make your cat 'too hot to handle' by spreading the word on social media and putting posters up as quickly as possible. You should take regular photos of your cat so the posters will be as current as possible
Make sure your cat has a tag with your phone number on and any other important information, for example if it has an illness or has been neutered as these are things which will deter thieves
Keep your details up to date on the microchip database so if your cat is stolen and later found, a vet or animal warden can get in touch with you
Hand out your contact details and photos of your cat to those in the local area, postmen, local dog walkers, neighbours and any other groups likely to be out and about locally on a regular basis

Direct Line Pet Insurance provides customers with up to £1,000 towards local advertising costs to get their pet back if it is stolen or strays. This includes the cost of getting the pet home and a reward of up to £500. Customers are also entitled to the purchase price of their pet up to £1,500 if their pet is stolen or goes missing and isn't found within 45 days.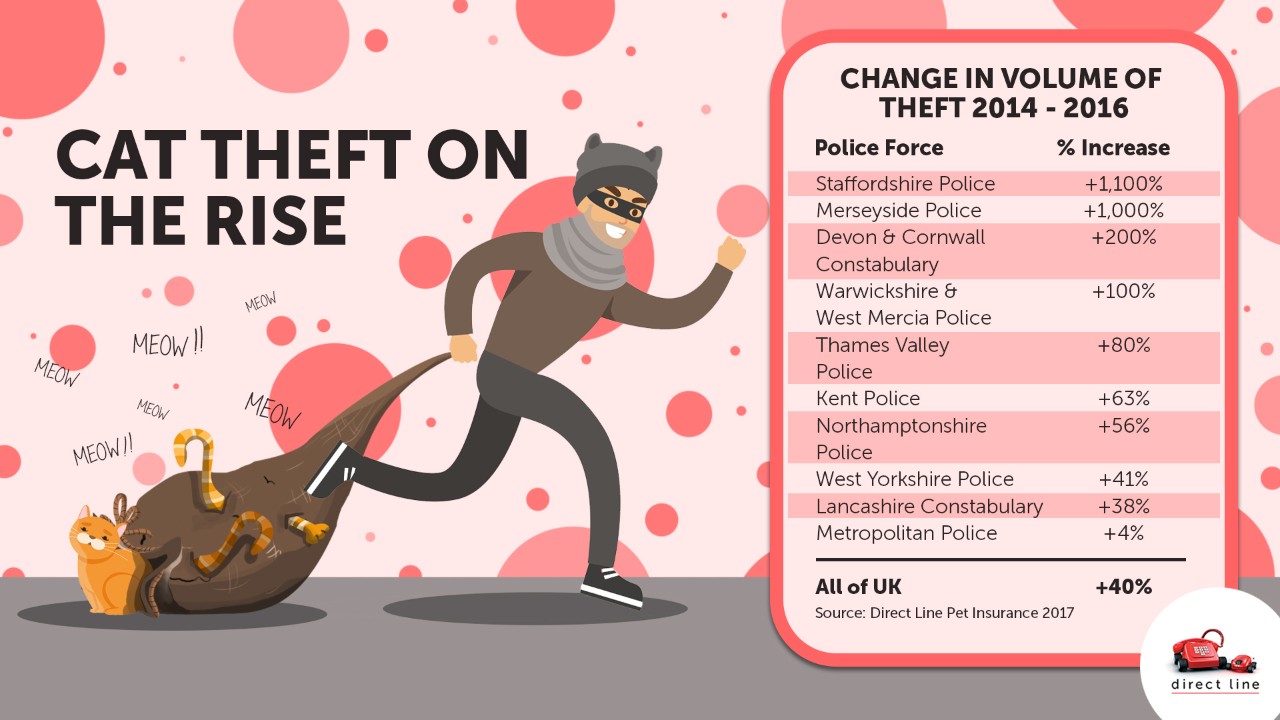 Click on the image to download
ENDS
Notes to Editors
1 Direct Line Pet Insurance's analysis of data supplied in response to a Freedom of Information Act request issued to the UK's police forces. 42 of 44 (95 per cent) police forces responded to the request, of which 34 were able to provide usable data.
2 https://www.yourcat.co.uk/cat-breed-profiles/bengal-cat-breed-profile.html
3 https://www.yourcat.co.uk/cat-breed-profiles/russian-blue-cat-breed-profile.html
4 https://www.yourcat.co.uk/cat-breed-profiles/siamese-cat-breed-profile.html
5 Research conducted by Opinium amongst a nationally representative sample of 2,004 adults completed between 11-13 April 2017
For further information please contact:
Claire Foster
Deputy head of news
Direct Line Group
Tel: 01651 831 672
Email: [email protected]
Antonia Green
Citigate Dewe Rogerson
0207 282 2967
Direct Line
Started in 1985, Direct Line became the first UK insurance company to use the telephone as its main channel of communication. It provides motor, home, travel and pet insurance cover direct to customers by phone or on-line.
Direct Line general insurance policies are underwritten by U K Insurance Limited, Registered office: The Wharf, Neville Street, Leeds LS1 4AZ. Registered in England and Wales No 1179980. UK Insurance Limited is authorised by the Prudential Regulation Authority and regulated by the Financial Conduct Authority and the Prudential Regulation Authority.
Direct Line and UK Insurance limited are both part of Direct Line Insurance Group plc.
Customers can find out more about Direct Line products or get a quote by calling 0345 246 3761 or visiting www.directline.com/pet-cover